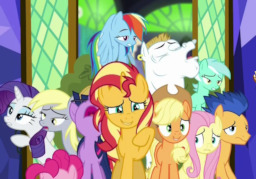 The yacht's wrecked. Spring Break is ruined. The cruise patrons are stranded on a deserted jungle island. And the crew of the yacht just...left them...somehow.
Sure, there'll probably be a boat, or rescue planes, or something, but why wait for all that when there's a perfectly good portal in the middle of the dark, spooky jungle that leads to a shortcut home?
Well, that and a long hike through another dark spooky forest. And a complete change of species.
The story of how the Canterlot High gang got home after the yacht sank.
Chapters (1)