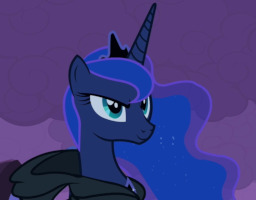 Princess Luna heard the stories of the lands beyond the mirror. The Oracle of the Setting Sun, traveler of this fabled other world, returned with tales of marvels the likes of which Equestria has never seen. Automatic carriages with the strength of four hundred horses. Metal birds that prowl the skies, swooping in and ambushing their victims with paparazzi photoshoots. Butter substitutes beyond belief.
One legend stood stood above the rest. A forbidden place that holds a power greater than any known to humankind, zealously guarded by a stoic warrior-scholar. Many students have braved her wrath, yet none have returned, banished into a hellish limbo where they remain trapped until long after the final bell tolls.
But Princess Luna is no mere student. She will not fail as have so many others. She will travel to this 'Canterlot High School,' uncover the mysteries that lie within, and claim for herself the infinite power of...
...the Faculty Parking Lot!
Chapters (4)