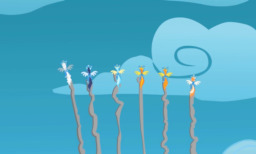 Honor. Duty. Princess and country. Speed. Totally sweet jumpsuits. The title 'Wonderbolt' invokes many images in the collective consciousness of the Equestrian public.
Among the lucky few to personally know this intrepid band of heroes, other descriptions become more apt. Descriptions such as "idiots," "crazy," "flying disaster areas," and "f%@#$*g Fleetfoot..."
Join Captain Spitfire as she counts down the days until retirement leads the Bolts in dazzling displays of aerobatics! Watch as Soarin bumbles his way to fame and fortune! Marvel in wonder at Rainbow Dash's incredible speed, outpaced only by her incredibly fragile ego!
Throughout the grueling training and the high-stakes performances, the monotonous military duties and the underground gambling rings, the parties and the... well... more parties, they'll always be there for one another. Because they're a team, and teammates look out for each other.
Except Fleetfoot. Seriously guys, f%@# Fleetfoot...
Chapters (13)