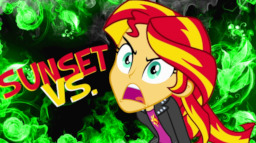 This story is a sequel to Sunset Shimmer is FedUp!
---
Sunset Shimmer has a pretty good life. She has good friends, a nice apartment, she's back in the good graces of most of the student body at Canterlot High, and she has a hotline to the Princess of Friendship back in Equestria.
But Sunset Shimmer has always had a temper. And there are so, so many things that annoy her.
Like FedEx. And crabs. But she's already dealt with those things.
Lately, a lot of the human world's little annoyances, oddities, and even things that have somehow popped up that shouldn't even exist are getting under Sunset's skin.
And she's had enough.
It's time to fight back.
(Inspired by, but not a crossover with, Dan Vs..)
Chapters (7)