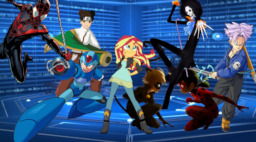 Sunset Shimmer's having a bad day. A really bad day. An embarrassingly bad day.
She kinda broke reality. And now the city is overrun with beings from all across the multiverse.
Both Twilight Sparkles are trying to fix the damage, but it's up to Sunset to deal with the metric buttload of crazy...
A wacky tale of unrelenting nonsense and stupidity.
Click here for a complete list of crossover characters!
Now has a TV Tropes page!
Chapters (41)