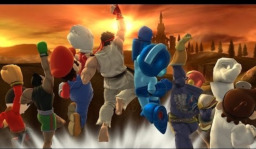 Inspired by Comes a Crossover by MythrilMoth. A parody of a parody if you will.
---
When reality begins to fall apart, it is up to Sunset Shimmer and her friends to join with a bunch of heroes from across the multiverse to band together and save it and stop the source. While Twilight tries to figure things out on her end.
With heroes like the Flash, Spider-Man, Sonic, Dan, the three Eds, and Johnny Bravo, perhaps this wasn't the wisest decision on their part.
But of course, when there are heroes, villains soon follow. And there's quite an array of them too. Can they stop this random threat?
---
Warning: Crossover stupidity and randomness will ensue. Characters from any franchise are fair game as long as I recognize them and feel confident in using them. Happy belated April Fools!
Chapters (4)