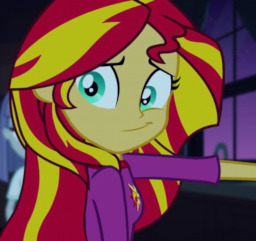 Trigger warnings: no sex, brief raunchiness, consent is not one of the reasons
(One of these days I'll figure out how to write consent.)
Everyone dreaded when Pinkie Pie was "it" in Truth or Dare. Already much clothing had been lost. And there were few secrets Pinkie Pie didn't know about the girls now.
Only one had yet to be broken.
"Truth… or dare?" Pinkie Pie said, menacingly.
"Truth," Sunset Shimmer replied.
Pinkie Pie took a breath, and then said the most embarrassing and raunchy question she could think of.
"Do you wanna screw a horse?"
What happened next would change all of their lives forever.
Chapters (1)