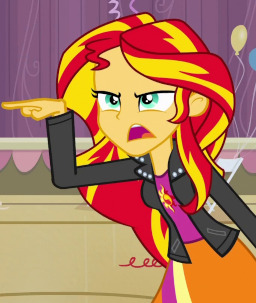 This story is a sequel to The Consequences of Good Intentions
---
Sunset Shimmer has been here before and will be here again. It's almost becoming a habit.
The mind altering substances and carnal relations during an event in Equestria got out of hand, and now Celestia is extremely pissed off at her.
But this time it's Principal Celestia, and maybe that will make all the difference. Maybe this time she can come out on top. Sure, she's in the principal's office with her six closest friends and their inter-dimensional duplicates, sure this time there were five people, three humans and two ponies, left pregnant, sure all of these bombs are being dropped one week away from graduation, but this time is Sunset Shimmers moment to shine.
---
I really truly didn't expect my first story here to be something like this, but PrincessColumbia suggested posting it as a story and apparently it got Sporktacles stamp of hilarity as well.
---
The DSP universe doesn't have a canon as such, so this can't be considered canonical, but here's a list of current works and their chronological order:
Bad Decisions Make Better Stories
- Founding Story, takes place in Equestria, by Sporktacles
Sunset Shimmer's Very Respectable Class Reunion
- Second Main Story, takes place in Equestria, by Sporktacles
The Consequences of Good Intentions
- Side Story, takes place in the human world, by PrincessColumbia
This Story
- Picks up the line after the previous story leaves off, in the human world
Sunset Shimmer's Sexy Sapphic Sacrilege Surprise
- Most Recent Main Story, takes place in Equestria, by Sporktacles
Chapters (1)