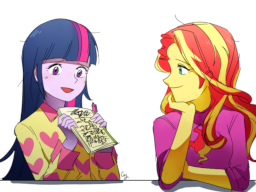 The wedding was a disaster, Twilight abandoned by her friends and family alike during it yet expected to get things fixed up after the defeat of the changelings, it is understandable that she is upset. Trying to clear her mind she takes a walk and comes across a normally guarded corridor, though is left unguarded due to the recent crisis causing her to investigate. It isn't to get out of worrying about a wedding she isn't invited to, not at all.
She finds the portal mirror and enters it to explore it, her anger at the others encouraging her to skip any safety precautions. Unfortunately, she ends up trapped on the other side on the run from people trying to catch her. That is until one girl finds her, a girl willing to believe her story and offers to help. A girl with a much more painful past who is still working on her own issues. A girl who goes by the name of Sunset Shimmer.
---
Featured on:
April 25, 2016
April 26, 2016
A big thanks to everyone who made this possible!

Chapters (10)