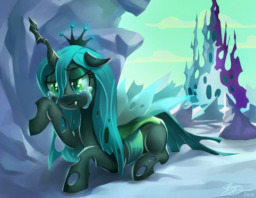 Source
This story is a sequel to Breaking Out to Avoid Being Broken In
---
Chrysalis has had better days. In fact, she once had it all. A loyal horde, her enemies cocooned as sources of food for her hive, a home not cluttered with useless items like banners, doors, and toilets. Times have changed for the former Queen and she's going to have to figure out how to adapt to her new life. Or, you know… do something sensible like try to get her old one back.
Thanks to ImDRUNKonTEA for use of this gorgeous cover-art.
Tired Old Man,
Nova Quill/Firimil,
Steel Resolve, and Nuclearcore for their edits and suggestions!
Mature version here. Warning: This version contain graphic descriptions of actual pony and changeling sex. Proceed at your own caution.
Chapters (2)