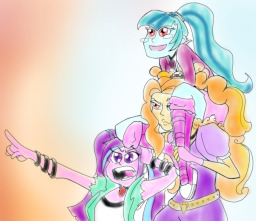 A collection of short stories ranging from the random shenanigans of displaced predators from an entirely different land, to familial bonding lessons. Some of them are going to be very short, some a fair bit longer, most of them are going to be standalone.
Rated teen because they are all adults, and there will be swearing. Mostly from Aria. I may end up upping it because I have a hard time imagining Adagio staying PG-13 for very long. Currently set in the human world, but one or two of them may end up going to Equestria proper later. I'll add tags as I need to or am recommended to.
I've never posted any of my writing before anywhere, so please feel free to let me know how to improve. Politely, please dear god politely.
Chapters (6)