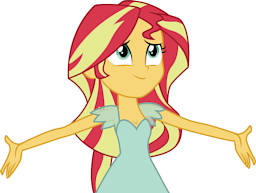 Someone proposed that this just be a collection of musical parodies, and it seems like I've got an otherwise unrelated song and situation to share every year, so here we are.
Chapter 1: "Please Come Back"
Prior to their long, emotional, and life-changing recovery from their wicked ways, the sirens stood on the cusp of their ultimate vengeance when a message from their old enemies made them stop and reconsider.
---
Chapter 2: "The Birthday Song"
The sirens didn't have this 'birthday' thing back home, especially not when, if they had their way, they'd have been lavished with love every day anyway. When they came to the human world and learned of the practice, it stuck with them.
Following a long, emotional, and life-changing recovery from their wicked ways and an ordinary (give or take Pinkie Pie) birthday party earlier that day, the sirens invite their dearest friend, Sunset Shimmer, along to witness a special part of one such celebration.
---
Chapter 3: "Request Night"
The sirens have a bi-monthly tradition that interests their friends.
------------------------------------------
Note: Not a sequel to anything, but for the purposes of this story, the sirens are reformed offscreen and have been in the human world for at least a few decades prior to the events of Rainbow Rocks. That in mind, the following might make more sense.
Pastiche - 1. A work of art, drama, literature, music, or architecture that imitates the work of a previous artist.
2. A musical medley, typically quoting other works.
Chapters (3)