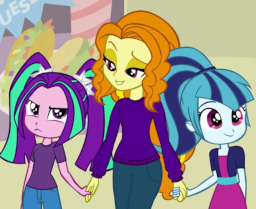 Source
[Special Note: This story has been previously featured]
---
Clavier Melody, protégé of Sapphire Shores, has a crush on Adagio. He's gradually developed this over the years ever since he's first met her at the start of Canterlot High. It's been four years, they're both a week away from graduation. Things will take a different turn for the both of them on one night that'll turn their lives around either for better or worse.
---
Reader's Note:
---
If you Like the story, please hit that like button. Your support would be greatly appreciated. Should you Dislike, please state in the comments below and why. Your opinion would be valued and considered. Thank you.
---
Warnings:
---
The story has been given the label, Teen as the story may not be suitable for children.
The story has been given the label, Sex just in case due to suggestive content and innuendos which may be present.
---
Announcements:
---
Special thanks to:
DilEmmas4U for giving me permission to use her art as the cover image.
---
And to:
Requiem17 and LightningSword for helping me with proofreading and editing.
---
And finally, to the art contributors:
---
Chapters (27)