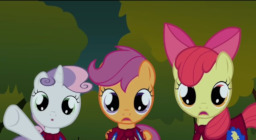 Apple Bloom wants to see her parents, the Cutie Mark Crusaders want their cutie marks, so they do the the only logical thing and try to raise the dead.
Can these three amateur necromancers pull it off without bringing back something twisted and wrong or a horde of the undead?
Tagged 'Sex' for a bumper crop of farm innuendos.
Chapters (1)