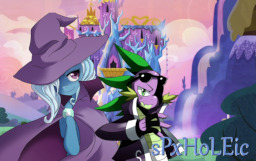 This story is a sequel to Spike, Trixie, And A Couple More Holes
---
After her rather embarrassing accident with an improvised shrinking spell, Trixie decides to make herself scarce for a while. When she returns to Ponyville, everything has changed--the library is gone, and Twilight Sparkle has a brand new giant tree castle.
Determined to pursue the secrets of becoming an alicorn princess, Trixie moves into Twilight's castle, where she routinely engages in--and usually causes--wacky hijinks for herself, Princess Twilight, and especially Spike.
Can Spike survive Trixie's attempts to learn the magic of friendship?
A story which intersects (and occasionally will supercede) the events of season five.
(Note: This is NOT a crossover with any CLAMP property, or anything else for that matter.)
Commissioned by TheGreatEater.
Chapters (10)