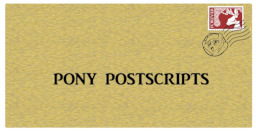 Just because the episode is over and the end credits have rolled, that doesn't mean it's the end of the story.
This is a collection of postscript scenes, things I personally feel would have (or should have) happened following the events of each episode of My Little Pony: Friendship is Magic.
Inspired by the "Letters" style stories and "Sugarcoat Interferes in Pony History."
(Please note: I'm not writing these in any particular order; when a new postscript is added, it will be published in proper episode order, so don't always assume the latest chapter is the last one on the list!)
(Portions of the cover image adopted from "Sunset Helper #15" by Uotapo.)
Chapters (32)