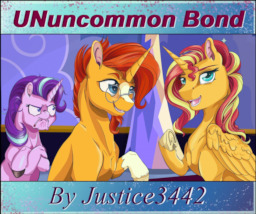 Source
Part of the MADVerse.
Tired of Sunburst hitting it off with all her friends, Starlight brings in expert of social interaction Sunset Shimmer to coach her through the difficult process of getting him to sit down and just play tons and tons of Dragon Pit. It goes about as well as you'd expect.
Thanks to Nova Quill/Firimil, and
Steel Resolve for their edits and suggestions! And a big special thanks to Nova for the cover art!
Also thanks to Somber Star and nuclearcore for some more edits and Jarkes for the story prompt.
Chapters (1)