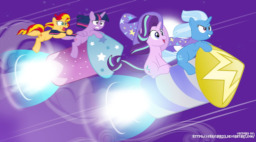 Source
You know how it goes. You're just having a relaxing Sunday with the girls, who all are accomplished magic users in their own right, one thing leads to another, and suddenly you're all involved in a high stakes game of rocket chicken.
Part of the MAD verse.
Thanks to Steel Resolve for his edits and suggestions and special thanks to Nova Quill/Firimil for her edits, sugestions. Also thanks to Nova Quill and DrakeyC for the story prompt!.
And finally, thanks to jhayarr23 for the wonderfully done and hilarious cover art.
Chapters (1)