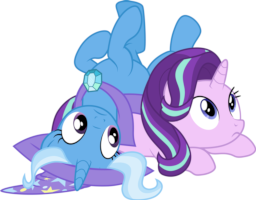 Source
Starlight and Trixie go to the store to buy groceries. A task so mundane there's pretty much no way they can mess it up.
Note: Part of my "Twilight, Spike, Starlight, Trixie, Tempest Shadow, and Grubber all hang out at Twilight's Castle continuity" which I should maybe think up a name for… 3TsG2Ss? It's Always Sunny in Ponnyville?
Thanks to
Tired Old Man,
Nova Quill/Firimil, and
Steel Resolvefor their edits and suggestions and cloudyglow for the adorbs vector!
Chapters (4)