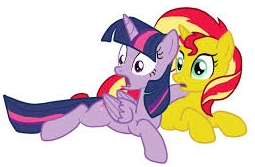 Life is grand for Sunset Shimmer and Twilight Sparkle. Sunset is being accepted by the school and Twilight has a sweet new castle.
When Celestia requests the presence of both of her former students, little did they know that it would forever change their lives and realities. More than one surprises are in for these two ponies.
This is based on my headcanon that Sunset Shimmer, Twilight Sparkle, and Starlight Glimmer are all related.
Thanks to The Real McCoy for editing chapters 1-4!

Chapters (7)