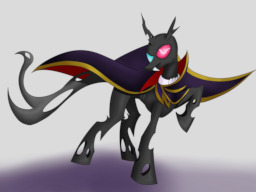 After conquering Japone, the empire of Nymphia has renamed it Colony 11 and its citizens, Elevens. War is everywhere, yet one vows to bring peace... no matter the cost.
Among the Elevens, one shall rise and become the beacon of hope. His name... is Zero.
Under the mask lies a young Nymphian, an exiled noblechangeling by the name of Stryker, who wants to avenge his father, King Rancor vi Mirren's, murder and make a peaceful world for his disabled little sister, Moth. At his aid is a great power.
The power... of Geass.
But will his efforts bring great gain or great loss? How many relations will be forged, broken, and lost? And will peace truly ever come in the end for Equus?
---
Warning: Language
'Gore' tag just in case because war.
Cover Art By: Nero_Nova
MLP and Code Geass Crossover
Code Geass belongs to Sunrise.
OCs belong to their respective owners.
Chapters (14)