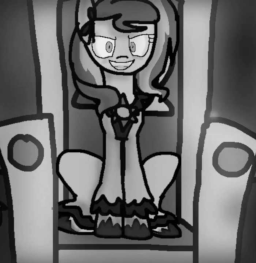 Sunset Shimmer rules over the kingdom of Canterlot. She is hated and feared by all of her subjects. At her side stands Flash Sentry, her most trusted guard...and childhood friend. He would do anything for his princess, even taking a life.
Fluttershy lives in the quaint little village of Ponyville. Shunned by the villagers, she lives by herself in her cottage near the forest. One day, while in the forest, she stumbles across an unconscious alicorn. The two become the best of friends.
The paths of these ponies will cross in the worst way possible.
---
Based off of these YT PMVs:
https://www.youtube.com/watch?v=chu4k5NSX3A
https://www.youtube.com/watch?v=GeJyR3tGBZw
https://www.youtube.com/watch?v=Gdjk9BXTO7c
(With a few twists, of course)
Chapters (4)