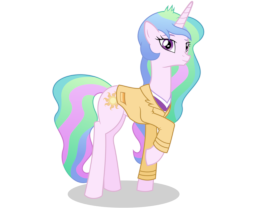 Source
Principal Celestia has accidentally fallen through the mirror into Equestria, and it may be a bit before she can go home. Until then, she has to learn to cope with a strange world, in a strange body.
At the same time, Twilight has to figure out how she can help her new guest while keeping Equestria from freaking out over the presence of a second Celestia, and Sunset Shimmer has to figure out how she is going to make amends with those she had left behind in Equestria, while keeping an eye on her Principal.
Disclaimer: Since I wrote this description ages ago before I even knew the plot, the story is mostly pure comedy in the beginning, with eventual Sunlight and Chryslestia shipping!
Cover image by Arvaus, used with permission.
Chapters (22)