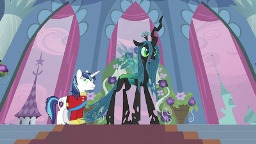 This story is a sequel to Mother Moon, Daughter Nightmare
---
In another universe, Princess Luna, and Nightmare Moon was saved by the Elements of Harmony. Now as the Royal Wedding of Shining Armor and Princess Mi Amore Cadenza get underway a threat to Canterlot interrupts the planning.
Princess Luna leaves to investigate the threat, just as Queen Chrysalis wants. It was going all according to plan, but the Changelings didn't plan on a foal with the mind of Nightmare Moon. How much trouble could a one-year-old foal do anyway?
————-
Please leave comments I love reading them and it helps me improve my writing.
Chapters (12)