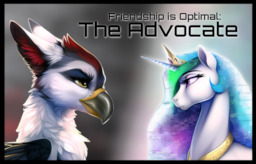 Source
A desperate attempt to tweak parameters of the afterlife with weaponized semantics and applied friendship principles
At the end of the world, a programmer struggles with his need to be something other than Pony. Can he spar with an intelligence that goes beyond the sum total of Humankind, for the sake of fulfilling a weird quirk of self-identity?
Some rules within a machine are more like guidelines. And others are based on the definitions of words. Can semantics be a weapon big enough to give a Human mind a chance at one small request from a goddess?
Set in the Optimalverse - I recommend reading Iceman's awesome original first if you haven't - More because it is a really excellent story than because it is strictly necessary for context. I have endeavoured to make this story stand well enough without context as well. But that being said? You'll probably enjoy it more if you know the context better.
Cannon-compatible with the Optimalverse to the best of my knowledge and abilities.
Cover-art generated with an image generative A.I., appropriately enough, graciously generated and composited (it takes skill to get something this spot-on!) by Keystone Gray.
Similarly you'll find many AI-generated illustrations throughout, again graciously generated in collaboration with Keystone Gray, then a little final photoshopping and other processing from us both.
Chapters (50)