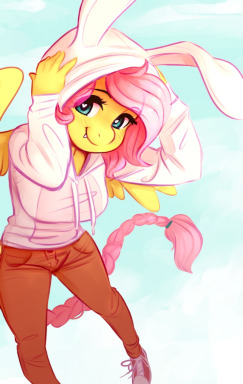 Source
You've ended up in an alternate universe where, while the ponies are the same jobwise, their personalities have changed. Applejack is now the fancy Sparkling Cider, Rarity's the hard working Ivory, and Fluttershy has become the animal impersonator, Cottontail.
You had a crush on Sparkling Cider, though you were rejected by her. At the same time, you gained a giant stuffed animal. It seemed like a coincidence that Prism Wing invited you for lunch the day after... and then you instead meet the creator of the stuffed animal.
Little did you know, you've been set up on a blind date.
Cottontail is an AU Fluttershy, particularly of the Ultimare Universe, made by Siden. Art done by mylittlelizombie.
Chapters (1)