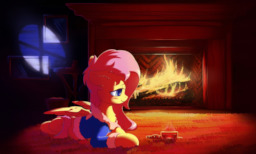 Source
As Ponyville's self appointed animal helper, Fluttershy takes responsibility for all the critters around town. And with Fall already deep underway, she overworks herself to make sure all the animals are prepared for the long winter months. At least this time she won't be alone, as you offer to lend her a hand.
Maybe she actually won't work herself ragged this year. Maybe she planned ahead and started early? Or maybe did the same as she always does. Regardless, you'll be there to help the beautiful pegasus... And hopefully not make a fool of yourself in front of your crush.
AN: Just something small I started a while back. This started as a RP with a friend of mine (you know who you are.) So It's not perfect, it's just a little cute romance story involving YOU and Fluttershy. The dialog from you is implied, just trying a different writing style as I like to do.
I hope you enjoy, partially inspired by the cover photo. Feel free to point out errors, it's only proofread by me, once through mostly. So there is bound to be errors.
Chapters (1)