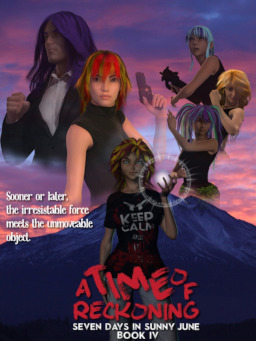 Source
This story is a sequel to Seven Days in Sunny June, Book III
---
A Tale of the Berylverse. Joint project with BlueBastard and Flynt Coal.
The climax to the Seven Days in Sunny June saga!
With weeks to go before Sunset is to realize her dream - being adopted by the family she loves more than anything - her world is about to fall apart: the human Sunset Shimmer has reappeared and it's only a matter of time before her loved ones come across the human girl who has no clue of what has happened over the course of the past five years.
But if that's not enough, Divine Right and Cantata Blast begin their final plans to summon a force beyond comprehension and to bring the world to its knees using arcane powers. All it calls for is a sacrifice, or two...or more.
Fortunately, they can be stopped.
Unfortunately, the one who can stop them's a little busy with personal issues at the moment....
---
Chapters (33)