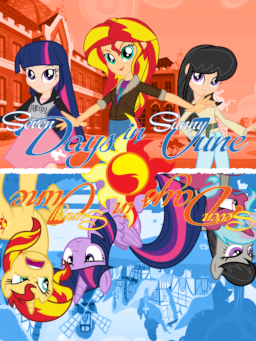 Source
This story is a sequel to A Hairier Problem: Rise of the Furball
---
Now with a reading series by martialartfruituser!
---
A Tale of the Berylverse. Joint project with BlueBastard and Flynt Coal.
Weeks after her defeat at the hands of the humanized Princess Twilight Sparkle, the one-time pony Sunset Shimmer is working towards making herself a better life. But in an unexpected chain of events, she ends up in a situation that not even her new friends - Applejack, Rarity, Rainbow, Fluttershy, and Pinkie - can get her out of...nor really do they want to. As if that's not enough, Principal Celestia's firmly against the whole deal.
But maybe if Sunset Shimmer sticks around, she'll get more than she bargained for - for good and ill....
---
Now blessed with its own TVTropes page!
While this does take place in BlueBastard's Berylverse, prior knowledge of his earlier stories (A Hairy Problem and Rise of the Furball) won't be necessary for Book I of this story. But it's highly recommended for Book II (and they're worth reading to begin with!)
Chapters (16)