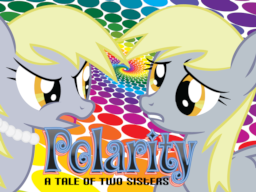 Part of the All-American Girl continuity.
---------
For Derpy Hooves, life is never easy. Even as an accomplished scientist and scholar, she still has to contend with a twin sister that hates her, living alone in a tiny town and working a dead-end job, and, of course, her eyes, which causes her to be clumsier in public than she normally is. For her, life sucks.
But now, Derpy has to face a decision that could rock the very foundations of her family, her life and her future. And if that wasn't enough, one of the neighborhood foals, Sparkler, may need her help desperately. And to top it all off, a secret project of hers might just change the world of ponydom forever.
She's got a lot on her hooves. Maybe too much.
Chapters (8)