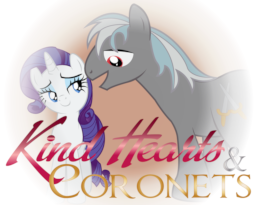 This story is a sequel to Polarity: A Tale of Two Sisters
---
All-American Girl prequel/Christmas Special 2013. Set after the events of Polarity.
It is Hearths Warming Eve, but there's no joy, not in Silversteel's heart, especially not after the end of his relationship with Derpy. But on this special occasion, he will see a mare that is more beauteous than he has ever known and becomes compelled to meet her...a mare he doesn't know is a sad, lonely soul with so much before her and nothing in her own heart.
From that meeting will come a love that may be tested and intertwine their hearts as one - if they get through their "interesting" lives!
Guest art in chapters IV and XIII by totallynotabrony!
Chapters (14)