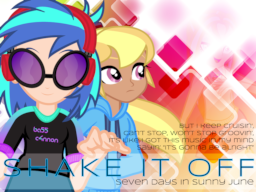 This story is an interquel of Seven Days in Sunny June, Book I.
---
Vinyl Scratch, hoping to start fresh after the Vibe debacle in Canterlot, moves to Detroit to live with her father. Joining her is newly-promised girlfriend Cloud Kicker, looking forward to the change of pace as well. Now attending a prestigious private academy in town, their lives are complicated with new friends, new enemies and the ever-present fact that disaster is looming over Vinyl at every moment.
Oh well, what's life without a few mishaps?
---
Chapters (4)