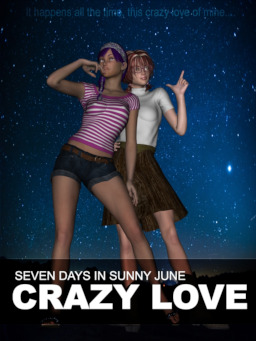 This story is a sequel to 7DSJ: You Are the Woman
---
Based on the World of Seven Days in Sunny June by Shinzakura, BlueBastard and Flynt Coal.
Compass Rose, sixteen years old, sophomore at Canterlot High School. She loves writing and poetry, 19th century stories and nothing messy. Has a crush on Sunset Shimmer.
Boysenberry, fourteen years old, incoming freshman at CHS. She's tough as nails, loves videogames and soccer, and in a impulsive moment, asked Rose out, surprisingly getting a "yes".
The former's nerdy and a dreamer. The latter's brash and reckless. But even though there's two years' difference, several people, including Sunset Shimmer and her friends, hope that Rose and Berry will be happy together.
But in the mid-size California city of Canterlot, "happy" doesn't mean "normal".
---
Cover by the ever-awesome Shinzakura
Chapters (3)