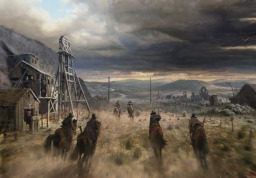 Source
Apple Bloom, Applejack and Vinyl discovered an ancient chest that was filled with old photos and books. Until they discovered something that made their minds flip, they found an old photograph of two women that looked strikingly similar to Applejack and Vinyl. What could this mean? The sisters opened an old dairy to find out.
Join the Wild West adventures of two young women, Annabelle "Annie" Apple and Melody Liker as they journey to the hard wild frontier town of Frontier City to stake a claim of gold and become legends. Melody only wanted the women, the gold, and the riches that she could never get at home. But Annie just wanted a new place to make a farm and be herself. But of course fate has different plans for these two women.
Can they achieve their dreams? Can they find love in this new place? Will Melody's past come back to bite them both in the tail? What will Vinyl and Applejack learn after reading the story of these two women? Jump in and find out.
---
My Little Pony: Friendship is Magic (c) Hasbro & Lauren Faust
Apple Scratch Verse (c) Mariacheat-Brony.
Now this story is considered canon to the Apple Scratch Verse Series.
Chapters (25)