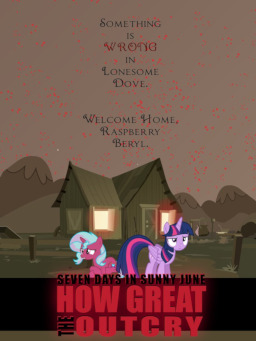 Source
This story is a prequel to Seven Days in Sunny June, Book II
---
It's been nine years since Raspberry Beryl fled her hometown and the ponies who had her pegged as a monster. Nine years since she killed her abusive father in a blind panic. Nine years since she discovered the truth about her dark ancestry. A lot has changed in her life since that fateful day. She found friendship in Ponyville, helped save the world from a dark curse, and claimed her title as head of House Sombra, and Princess in pretense of the Crystal Empire.
Now, Raspberry Beryl finds herself returning to her hometown along with Princess Twilight Sparkle to make peace with her past. But something is wrong in Lonesome Dove. Strange events begin to unfold, ponies start disappearing without a trace, and Raspberry is suspect number one. To prove her innocence, Raspberry must get to the bottom of the dark events while facing the shadows of her past.
Welcome home, Raspberry Beryl.
A joint project with Shinzakura and BlueBastard
Chapters (1)