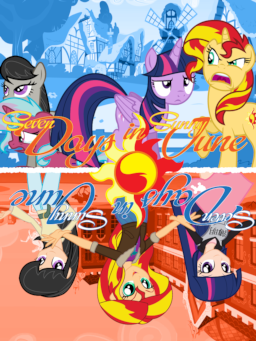 This story is a sequel to Seven Days in Sunny June, Book I
---
Joint Co-Authored project with Shinzakura and Flynt Coal.
---
Once, Sunset Shimmer had desired nothing more than to return to Equestria and assume her rightful place as its supreme ruler. Instead, she discovered her place amongst the humans of the world she thought herself exiled to, never assuming that the students she'd bullied would become her best friends, nor that she would come to see an alternate version of Twilight Sparkle as not only a friend, but a sister. Yet it came to pass, and though the previous year had been hard, Sunset had finally let go of the past.
Yet the past refused to let go of her. Something dark and sinister reached from beyond to hurt Twily, buffeting her mind with nightmares of strangely-colored ponies and macabre events to come. Sunset recognized it as her homeworld, especially the description of a dark, twisted version of Sunset's own unicorn form. Furthermore, the discovery of a second link to Earth deepened the mystery: an ancient Italian artifact adorned with cutie marks, amongst them those of Queen Faust and Princess Celestia.
In the end, Sunset chose to rush to her foster sister's defense, knowing that the path would lead her back to her haunted past, and possibly into the vengeful hooves of Celestia. But what she didn't know would be that it could lead her to her own mirror image, a darker version of herself:
A version known as Raspberry Beryl.
*Featured 7/30-31/14, 8/6/14, 8/20/14, 9/3/14, 9/10/14, 9/24/14, 10/1/14, 10/8/14, 10/22/14, 10/29/14*
Chapters (14)