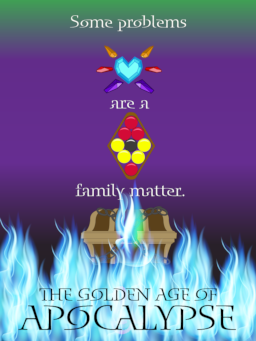 This story is a sequel to Seven Days in Sunny June, Book V: The New Frontier
---
Part of the Berylverse Project - edited by Shinzakura, Flynt Coal, Flash Frame, and Whitewolf Stormrunner.
Equestria has weathered a devastating war waged by the monstrous Tirek, emerging victorious but its people and land shattered. As the country continues to pick up the pieces even a year after the centaur's destruction at the hooves of the Element Bearers, Raspberry Beryl once again finds herself trying to adapt to a new status quo after an unexpected absence of nearly a year – in what was only a few weeks for her in the human world. Embracing the role she was given as Equestria's appointed Archmagus of Dark Magic – a task she and she alone can only bear due to her ancestry with Sombra, granting her immunity from the corruptive effects of dark magic at the cost of only being able to use dark magic herself – she applies herself to try and help heal the broken world best she can.
But her time back on familiar ground is short before she comes into contact with a dark artifact: the Alicorn Amulet. Unknowingly, she and her friends are thrown into a long dormant plan that could bring about the end of Equestria, a fatal blow to an already crippled country from none other than Sombra himself. To make matters worse, the coronation of the newly ascended Princess Sunset Shimmer is on the horizon and while it will be held in Equestria, the list of invited guests include the first humans who would ever come visit from the human side of the mirror portal. And all along the way, enemies both new and old will challenge the fragile peace of the country.
Yet underneath it all, far more horrifying truths await to be revealed, throwing into question just how much influence the two worlds of ponies and humans have had on each other across time.
Chapters (32)