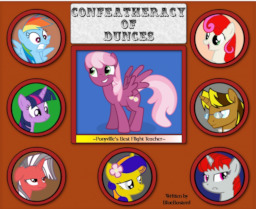 This story is a sequel to On Wings
---
Following a crazy week where her entire being was turned upside down, Cheerilee is perfectly happy as both an earth pony and as the one mare faculty of Ponyville Elementary. Now that the school year is through, she makes her annual plans to volunteer in the town's summer school program, even if it means having to possibly deal with the clique of three unicorns who fancy themselves her professional betters and belittle her constantly. But this is nothing new, nothing she can't handle.
However, when Mayor Mare pulls Cheerilee aside and informs her about Rainbow Dash having lost the ability to fly due to an on-the-job incident, it becomes clear that this is not going to be another routine summer. Forced into being Dash's last hope of ever flying again, Cheerilee is going to need all the help she can get to take education to new heights in Ponyville. The only recourse she has is to regain her wings and hope that she can pass this challenge with flying colors...if she doesn't just crash and burn in the process.
Rated Teen for swearing, minor sexual humor, and Cheerilee's love of alcohol.
Chapters (12)