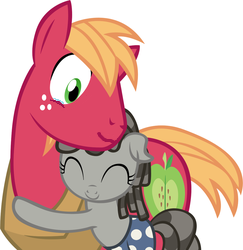 This is an unofficial sequel to Smarty Daddy by Akumokagetsu
Original coverart from here with a slight alteration. I know it's basically the same as it's predecessor's coverart, but i couldn't find anything that fitted better
Twilight thought that, once the spell on Smarty Pants wore off, she wouldn't have to worry about it again. However, several weeks later, Applejack comes, begging for her friend's help.
Big Macintosh has gone into a depression the likes of which nopony could've ever expected of the stallion. He's not eating, barely sleeping, and spends all his time in his room, crying as he clutches the Smarty Pants doll.
Twilight, upon hearing Smarty Pants is involved realizes what has brought Big Macintosh to this state. However, her spells won't be strong enough to fix this, so she calls on Discord, hoping he will be willing to help.
Popular Stories 17/8/2015
Edit: Akumokagetsu has given my permission to continue the story as long as it remains an unofficial sequel
Chapters (2)