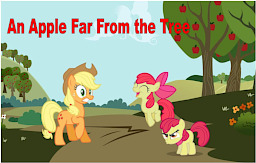 Sam Wilson was a normal guy. He had a normal life, with a normal family, normal job, normal everything.
Yes, he was a brony, yes he enjoyed reading fanfictions, including ones where humans got sent to Equestria, sometimes turning into ponies in the process.
Yet, his normal-great life would not last forever. It all started when— *record screeching sound*
"Yo, Pinkie! Quit being a third-person view narrator! This is my life story and I'll thank you to let me narrate it, thank you very much. Narrating's the only time I can talk like my oldself again, so don't take it away from me!"
Okie dokie lokie!
*Ahem*
Anyway, as I was meant to be saying, It all started when I woke up as Apple Bloom.
As me and my family struggle to understand what's going on and move on with our new lives, I find myself somehow in Equestria and what's worse, there's already an Apple Bloom here! How am I possibly gonna get outta this?! Why ME?
______________________________________________________________________________________________________________________________
Note: I made the cover image with an Aj, Ab and background image i found on google and used microsoft powerpoint and paint to put them together and edit a little.
The applebooms came from HERE and HERE
I take no credit for them, the applejack or the background (if you know the link for the latter two, please let me know so i can give credit where credit is due).
this is a fic i was inspired to write after reading Becoming Sweetie Belle by Sparknanator.
Now, your first thoughts are probably going to be, this is basically the same story, but with Apple Bloom instead of Sweetie Belle.
well, while that is slightly true, i am going to be doing my best to make this as different from Becoming Sweetie Belle as I can, for I do not want to be seen as a plagiarist, for that is not my intention.
Popular Stories 6-12/9/2014. Featured Box 6-9/9/2014 and again 30/8/2015!

In the featured box 6/5/2016


Chapters (18)