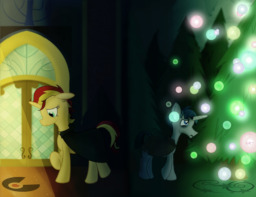 Source
This story is a sequel to Dream Date
---
Wandering the Royal Palace, Sunrise stumbles onto Sunset Shimmer's old room, kept exactly the way she left it so long ago. She communicates this to Sunset.
What follows leads to a reunion between teacher and student, mother and daughter... and perhaps the beginning of true forgiveness for each.
Meanwhile, Sunrise learns one of the most chilling magical lessons in all of Equestrian history: the story behind a spell called Stygian's Lament.
---
This continuity continues with The Black Rainbow Concert.
Content note: The 'suicide / self-harm' and 'death' tags are for the discussion of tragedies in Equestria's history. No such act is performed by any character in modern time, but a past self-destruction is shown in narration.)
Artwork by Sixes_and_Sevens. Please check out their excellent artwork and stories.
Chronology notes:
1. This story begins a few days after Dream Date. Additionally, while it isn't necessary to have seen Forgotten Friendships before reading this, that story is referenced.
2. Also, you don't have to read Twilight Sparkle Was Shot before reading this story, but it is referenced quite heavily. Also, this story contains serious spoilers for that earlier tale.
3. Also also, it is not necessary in any fashion to have read any stories from the Elsequestria continuity to enjoy this tale. However, for those of you who have already read The Secret Apprentice of Princess Celestia, please bear in mind that this timeline is a divergent reality from that one, separated most distinctly by which mirror Sunset fled through. The Sunset Shimmer of this timeline therefore had the exact same childhood as the one shown in that story.
Part of the Sunset Rising continuity.
Chapters (8)