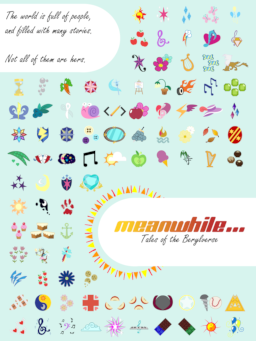 This story is a sequel to Seven Days in Sunny June, Book V: The New Frontier
---
A tale of the Berylverse. Takes place concurrently with The Golden Age of Apocalypse.
---
Canterlot, California - the 35th largest city in the United States, a bustling metropolis filled with hundreds of thousands of people, all with different lives and motivations. Yet so many of these lives are intertwined, tied to one another like Gordian knots.
As events unfold in another city named Canterlot, on another world, in another reality, one could see why things are so different...and yet why things are so much the same.
---
TVTropes page here.
Chapters (17)