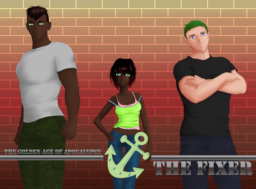 This story is a sequel to Seven Days in Sunny June, Book V: The New Frontier
---
A tale of the Berylverse. Takes place concurrently with The Golden Age of Apocalypse and meanwhile... Tales of the Berylverse.
---
After the eventful summer that found Sable Loam involved with warring mercenary factions and the very firmaments of the universe, the ex-army school teacher finds himself becoming the Admiral of the newly ascended Princess Sunset Shimmer's fledgling guard: the new SIRENs. Between that and his job at Equestria County Alternative High, Sable hardly has any time for a personal life.
Enter Troubleshoes Clyde, a talented mechanic and former Navy SEAL. Sable thinks he might be of some use, but unfortunately, Troubleshoes has his own string of bad luck. Problems with his family and his checkered past end up bleeding into Sable's own life, and he finds himself in the cross hairs of some truly dangerous people. The new leader of SIREN must put his team to the test if they want to avoid a repeat of the summer that never was.
Cover art by DreamingKitty
Chapters (9)