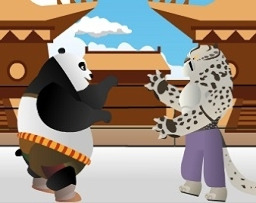 [Displaced]
"Yesterday is history, tomorrow is a mystery, but today is a gift. That is why it is called present."
"One often meets his destiny on the road he takes to avoid it." -Oogway
"Anything is possible when you have inner peace." -Shifu
"Your story may not have a happy beginning, but that doesn't make you who you are. It is the rest of your story, who you choose to be." -Soothsayer
~~~Prologue Description~~~
Two best friends, Tyler Young and Pocano Fling, inspired by the movies of Kung Fu Panda, decided to learn Mixed Martial Arts, no matter how hard, and become masters of the trade. Years later, they have opened a MMA gym, and had been training many young ones since; to celebrate their success they used their extra money to order a replica staff seen in KFP 3... yet, things do not go as planned...
~~~Story's Beginning Description~~~
Two friend who have turn into characters from Kung Fu Panda, have been sent to the Crystal Empire when it was still being ruled by Sombra. They must face the challenges of the world they are in, the ones in their minds, and the ones in their hearts. Join them to see what adventures they may end up in, will they be awesome? Comedic? Heartfelt? Tragic? Who knows? Find out in the chapters below.
~~~Extra Tags~~~
(Here because some tags apparently conflict with others; need more character slots than just 5)
Extra Tags: Sad, Alternate Universe, and Slice of Life
Extra Characters: The CMC, Spike, Sombra, and Zecora.
(These may end up being edited in the future)
~~~---~~~
DISCLAIMER: I do not own anything in or related to Kung Fu Panda owned by DreamWorks Studios, nor My Little Pony: Friendship is Magic owned by Hasbro Studios.
WARNING: Rated Teen for some mild violence and language.
(Story's current Tag: Teen may change, might even add the Sex or Gore Tag later)
~~~Requesting Help~~~
The cover art for this story is mainly temporary, so, if anyone could... I would like to have some cover art made for this story, and if you are interested please PM me so we can discuss further details.
Chapters (3)