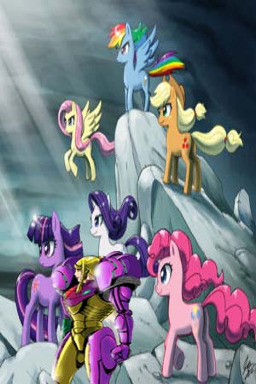 Source
A Metroid crossover.
After destroying the X, the Galactic Federation charges Samus with treason and hunts her down. While running from the Federation, Samus manages to escape but ends up crashing in Equestria, far from any explored sector in the universe and with no way of returning home. Can the most feared bounty hunter in the galaxy adapt to a land full of talking, magical ponies who think friendship is magic?
Some notes:
1. This takes place after Metroid Fusion, which is the last game in the Metroid chronology/timeline so far. It also takes place after season 2 of My Little Pony: Friendship is Magic.
2. Samus crash lands on Equestria and meets the mane 6. I'll try to not make it too cliche. Also, no ponified Samus (at least, not planning to).
3. In this story, Samus is a Federation runaway. They are hunting her because she destroyed the X parasites in Fusion and they wanted to research on them (I recommend checking the Metroid Wikia for reference).
4. I'll take the 'Tragic' as not so tragic. Don't expect deep depression from this story.
5. I'm open to ideas! Any review/comment is greatly appreciated. Feeding my ego will increase the chances for updates!
6. Any story inspired or ripped off from this story WILL catch my attention. Please tell me if you are going to write one, so I can read it!
Without further ado, enjoy!
----
Original artwork by johnjoseco. DA page
All I did was paste Samus.
Chapters (21)