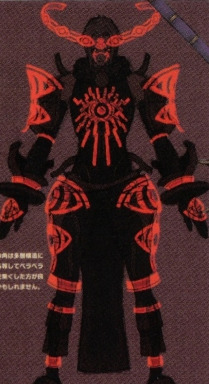 There was once a old story from the Crystal Empire. One myth that was commonly told to scare filly's and colts on the darkest of nights. This story was of a figure who had control of strange abilities that were not related to magic, served as Princess Amore's personal guard and had sworn to protect the empire and all those who called it home as it's guardian. However, one day, this individual snapped, turning into a powerful monster that was known as "The Terror of Death". Many ponies believed that the beast was destroyed by King Sombra long ago, shortly after he replaced Princess Amore, but over the years, many have told this myth in different forms.
However... The thing about myths... is that they are truths to stories and legends that ponykind have long forgotten. Now, the Crystal Empire has been ruled by the twisted lies and half-truths that have deceived it's citizens for years. No one knows the full story... Nopony knows what truly happened... Everypony believes exactly what Sombra said... and the lies that he weaves.
Just when things seem bleak though, one mare runs away. Afraid to accept or defy her destiny and what she must do for the empire. But with her decision to run, she stumbles upon the last thing she ever expected... The Truth... And the guardian that knows it. Now reborn after being frozen away in the tundra of the Empire, the Adept Rogue that Amore had befriended has returned.
And he will make sure that the Crystal Empire is freed from this darkness.
---
Something that I had been working on for a while. I wanted to be able to celebrate over 300 followers and thank all of the people who have assisted me over the years. Thank you to ShadowsInTheDark, BronyParasite and Solphestus for lending their help with this story and to all of my friends on this site who have supported me and motivated me over the time I have been here.
Now on Popular stories list as of 4/20/16. Thanks a million everypony!
3/31/2017: Featured!? Oh my god, you guys are the best!
5/26/2018: Featured once again!! Thanks a million!
12/29/2018: Featured once more. A late christmas miracle!!
9/3/2019: Featured again. Guess I still got it
[Displaced Story]
.Hack// belongs to Namco Bandai and CyberConnect2. MLP belongs to Hasbro and Lauren Faust.
Credits to everything shown
Chapters (18)