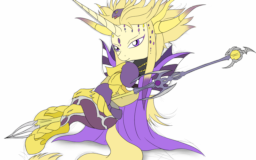 Emperor Mateus, emperor of the Palamecian Empire wakes up in a strange new world. Having been defeated not once, but twice by the hands of Firion and his rebel gangs. But instead of returning back to hell after his second death just like he expected, instead he suddenly finds himself drifting off through the void and dragged to a new and unfamiliar world with an even more unfamiliar body as well.
His mind somewhat warped and altered from his previous experiences, he now has now the chance to start over from scratch in a world that seems to be oozing with magic. But don't be fooled by his now somewhat altered ego, he still is the Emperor, highly intelligent, cunning and extremely powerful (even though at the beginning his magic is weakened)
Now that he is here and given another chance in a new world filled with new possibilities and conquests he will make sure to not repeat his previous mistakes ever again while getting his…han-hooves…on a new empire. He is going to show this new world what true dominance is.
The Emperor is back and hungry for more power.
(FEATURED ON 10/6/2016 JUST AFTER A DAY OF RELEASE? DON'T YOU PEOPLE'S HAVE ANYTHING BETTER TO DO?)
(Authors note: The current cover art is only temporary, I will create a more dedicated cover art if this fic is being received well.)
Chapters (23)