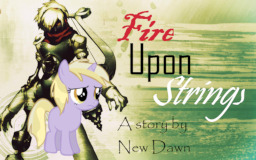 My name is Jake. Or Orpheus. Which ever you want to call me, I'm used to both. I could explain that I'm a mute brony gamer and I was sent Equestria.... but I'll explain like this...
I was sent to Equestria by a merchant... a very creepy one too. He sold me a steel cosplay Evoker, thanks to my brother giving me money. I didn't think much of it at the time, but what was my luck to find an fake Evoker? Buuuut now I'm stuck in a equestria with a limited supply of Soul Points to survive on. If only I could find a Soma in Equestria...
Oh yeah, I can talk now too.
Why is my life so... weird.
---
Displaced story about a mute brony who plays games, preferably persona games. like that cliche hasn't been used a million times.
Tag will be updated as I go.
Cover art is temporary, or until I can find someone to make me some.
Rated teen for strong language and for violence. I mean, this is a displaced story!!! Why the heck wouldn't a displaced fight something?!
It gets a bit darker as the story goes. You've been warned.
Check out my other displaced story: The non-Equestrian Equestrian hero!
Chapters (18)