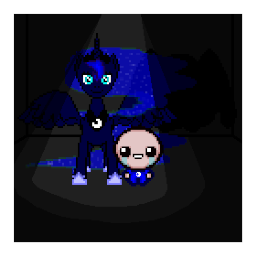 Twilight Sparkle has come across the impossible. A book she's never read before, with an odd plus-like shape emblazoned on the cover. What is this book, and what does it mean for Equestria?
Meanwhile, Isaac has been stuck in the basement for a long time - centuries? Millenia? But when he finally finds a way out, will he be able to adapt to the planet that's moved on without him?
Crossover with 'the Binding of Isaac : Rebirth', a game by Edmund McMillen.
Rated Teen, because somebody can't keep it polite.
Featured on 5/31/18!
Check out another great tBoI crossover, Binding of Isaac: Beyond by IAmNotSmartest!
Chapters (26)