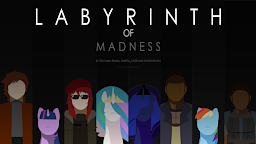 Source
Four authors, eight characters, one labyrinth and a lot of violence. Oh this was a bad idea. How was alcohol not involved?
Four (in)famous Wastelanders find themselves unwillingly pulled into a place controlled by the mad goddess Katastrofis. Along for the ride are four ponies, each with a connection to one of the Wastelanders. Their task is simple: survival. But with the terrors of the labyrinth and the fickle nature of its mistress standing in their way, do they have any real hope?
STARRING:
Thomas and Luna (tony1685)
Ethan and Twilight (ed2481)
Scarlet and Celestia (Omega_code)
Aeron and Rainbow Dash (Shadowflash)
Events are non-canon to their home universes, though events mentioned may not be.
This is a collaborative piece, so give those guys some loving too. They're all great guys.
Chapters (23)